Radiant Star Raffle Quilt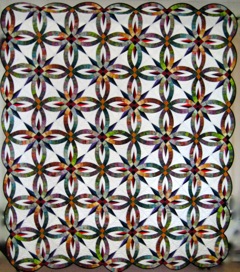 We are pleased to announce that our Raffle Quilt was won by Margie Bumm of Baton Rouge, LA. The quilt has been shipped and we have begun working on our next raffle quilt for our 2018 show. Check back here for exciting details.
The Raffle Sewing machine was won by Kristi Minnema, a new member of Gate City Quilt Guild. Congratulations, Kristi and many thanks to McKinney Sew and Vac for their generosity and support of our guild.